Dublin GA – Botkin Lumber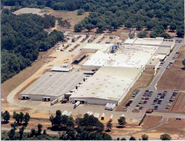 Our plant in Dublin, GA is a 400,000 SF facility that we purchased in 2003.  Production began in 2004, producing multiple truckloads of pallet cut stock per day.  Production ended in 2009 due to poor economic conditions.  However, Dublin is a potential production location as our equipment is still in place, should a customer come along with high volume pallet cut stock production needs.
We have storage space available for lease at this location.  We would be glad to respond to inquiries about this facility.