Botkin Lumber Locations
|Farmington | Cape Girardeau | Taylorville | Portland |
Industry Leaders in Manufactured Lumber and Custom Packaging
Botkin facilities are strategically located throughout the country to bring our products and services as close to our customers as possible.  We are proud to support activities and philanthropies in the communities in which we are located and to support local industries.
Our Plant Managers have over 55 years combined experience with our company and many of our employees started with us when our plants opened.
We are proud of our plants and enjoy providing tours.  Please contact our Corporate Office to make arrangements.
Corporate Office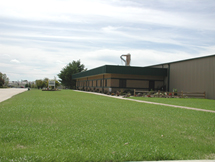 Botkin Lumber Company's Corporate Offices are located at 1901 Progress Drive in the Farmington, Missouri Industrial Park.
Management, Industrial Sales Staff and Administrative Staff are at this location.
573-756-2400 phone
573-756-4168 fax
Botkin Lumber Company
At Botkin lumber we understand the importance of having access to the worlds markets as well as best and most competitive products to ensure future growth for the company.
Our experience and knowledge in logistics and international commerce matters, complying with all international regulations as well as country specific requirements, regional and international trade agreements, and phytosanitary requisites has become well known with other companies employing us to provide those services.